21st Century Accounting Tutorials - General Ledger
Configure G/L Account Segment Names
Setting up department names is very useful – and required if you intend to print consolidated financial reports for a single segment.
If you do not set up the values and names, the system inserts default names in the Chart of Accounts when it replicates accounts. You can edit the default names in the COA. But let's save ourselves lots of editing in the COA by adding the names only once in the window below before we replicate accounts.
Run Configure/G/L Account Segment Names.
Remember, you can leave the Chart of Accounts window open while you perform this function. The only real limitation to the number of open windows is your computer's resources.
Arnold Plumbing Company has five departments. Enter the following values and names.
Press the Tab key after each entry.
00 Company
01 Executive
02 Administrative
03 Sales
04 Engineering
05 Technical Support
Click Save changes. The window should look like this: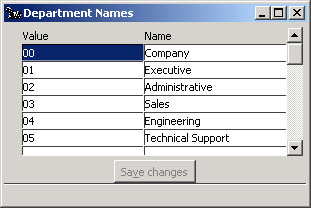 Configure G/L Account Segment Names window
---
Back To Top | Back To Main Tutorials Page